Soccer
Training

How to Become a Great Player
"Soccer training will make you a great player." This is truth for those who practice daily. I learned it by playing soccer. So I'm here to share with you my experience.

Every young soccer player enjoys hitting and kicking the ball. Some are doing so without the right knowledge. It is very important to train properly and follow your progress.

Your soccer coach may help and guide you if you join a soccer team. For young soccer players who train individually, they can follow different training types. They should use soccer training fitness, training speed, training videos, etc.

Let me share with you ma stake about these training options.

My Soccer Training experience
I needed to find a driving tool to achieve that dream. Soccer training was the perfect thing to do. No matter what the conditions were, with or without a team, I had to train harder. Alone or with teammates, in good or bad weather, hectic schedule or not, I had to be in the field.

Practice, practice, and practice was my motto. It was part of my soccer vision. I wanted to make it big at a professional level.  Every single day, over and over, I ran around the soccer field. I was warming up, juggling, shooting, heading, running and controlling the ball. I was my own coach and working alone.

I lived and breathed soccer daily. It was an obsession. Training was the tool to release that energy. Soccer was always in the back of my mind while performing other tasks.

Young soccer players should follow this example.  Do not wait for motivation or permission to reach your soccer career dream.  Create your own path to success. Train for soccer daily. 

 You will be amazed by your own progress. Make your training for soccer works for you. Concentrate on your weakest areas. Spend time to develop each of them. You can use different training types.

Soccer Training Types
You have different training types for young players. They can use them for individual sessions. These training options help them to improve their weaknesses.

These are some of the training types: fitness training, speed training, training videos, etc. Using all these types will make you a great soccer player.

Youth Soccer Fitness Training
Young players using this type of training become fit and ready in the pitch. This is one of the best training options young players always forget or neglect to use during practices. More details about youth soccer fitness training.

The good new is that you can even use soccer fitness during your individual training session. You do not need a coach. You do need a workout routine you should prepare before going to the field. Try this option and you will never regret it.

Youth Soccer Speed Training
Soccer is a competitive game. It requires speed and endurance during practices and games. Therefore, young soccer players should practice their speed training regularly.

You can use soccer drills to improve your speed. You can create your own speed exercises and use them. Always make sure you keep a data sheet to measure your progress. Learn more about youth soccer speed training.

Youth
Soccer Training videos
They represent a great learning tool in and off the field. Young soccer players have lot of options and tools to use training videos. Internet is a great asset where you can find thousand of these videos.

Use relevant youth soccer training videos will help you to become a great player. Look for videos to develop areas where you are weak and less competitive. You can use training videos in and off the field. This is a great training tool to consider in your training schedule.

Watch training videos. In the pitch, work harder on fitness training, speed training, speed conditioning, strength training. These exercises will make you great player.

My Soccer Training Last Advice
Young soccer players can create their own path of training without waiting for a coach. If you do have one, the task becomes much easier. Follow his instructions.

Training can be also done alone.  I did it myself. Today you can do the same with the help of available technologies and the Internet.  What matters the most is to have a personal soccer goal.

Your passion for soccer will inspire and guide you to get up and jump to the field every day. That is the only way you will achieve your soccer goal. Can I repeat it again? Practice, Practice, and Practice again daily.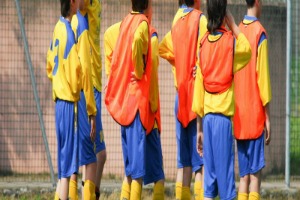 Competition between players creates a lot of pressure on you. There is no shortcut or easy road to take. So how do you go about it? If you want to become a great player, you should practice every single day.

That is the KEY to success. Practice, practice, and practice.

"Good enough" is not good enough in today's soccer. The competition doesn't allow any place for second-best. You should be great or not be part of the team. This is the TRUTH.
I have this advice to young players. The key to success or failure is YOU. To reach your dream in career, your watchword should be "training, training, and training."
This is the key that will lead you to a professional soccer career. Training should be done daily. Just do it. Get in the field and train every day without waiting for permission.
"Go back to top of Soccer Training: How to Become a Great Soccer Player"
You are invited to visit the Home page of Youth Soccer