Soccer Training Types

For Young Players
Soccer training types can enhance your skills and talents. So, you're one among the many youths around the world who love different types of soccer training right?   

You're planning to enter a soccer school. If you simply love soccer then that's really cool of you.  These soccer training types will help you to take on any soccer challenges.

Soccer is truly a very popular game which is being patronized by many people from all around the world. Soccer superstars were once one like you: a youth who dreams of becoming a renowned soccer player one day.

For you to realize your dream, you have to undergo a thorough training for soccer now that you're still young and enthusiastic. So what types of training for soccer do you need?  
Soccer Training Types



Such trainings prove to be an essential factor to help you realize your dream of becoming a soccer superstar. The younger you train with them, the more chances for you to enhance your skills.

Otherwise, it will be very difficult for you to correct the wrong once you've already grown old.I started played soccer at age 5, with bare feet, on the street. It was the best foundation of my soccer career.

The following are special types of training for soccer which are intended for cool and enthusiastic youths. They really want to take part in the fun and exciting world of soccer.

Soccer Speed Training: This is a special training for soccer-enthusiast youths. It aims to enhance your speed and velocity which are very important in the field.

Weight Training for Soccer Players: This training involves lifting exercises to balance your weight. It is not about building muscles. It is about preparing you for endurance and stamina in the pitch.

Weight is a factor that affects your performance. You better have your weight maintained at its right level to play well in the field, won't you?

Soccer Strength Training: Strength is equally important as your speed and weight. No matter how perfect your speed or weight is if you lack strength in the game.

This will only end you up as a disappointment to your team. To become superstar means you have to be strong in every aspect of the game.

Soccer fitness training  is about getting you fit to make it throughout  the season. This is not  dread-mill workout by specific fitness exercises  in the pitch.

Soccer Goalkeeper Training: To be a goalkeeper is a way to get noticed in every soccer game. Take time to learn specific workouts  for the goalie.  That is the goal of this training.

You have then a mixture of different types of skill enhancements. Simplify your training with soccer training videos. They will assist you in using the soccer training types.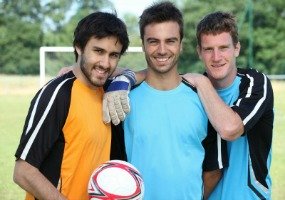 Benefits of Soccer Training Types



Not all young soccer players know or use these types of training. Their focus remains kicking the ball in the field. Those who use them find important benefits to become great in the pitch.

Soccer speed training improves your velocity and agility. You are able to speed while controlling the ball. You can sprint to attack or receive the ball first. Your quickness of feet helps beating your opponents.

Soccer speed training allows you to quickly change direction. In real soccer game, you have the ability to quickly execute your soccer moves.  Your soccer speed style is an advantage for you.

Weight training helps you to build your muscles. As you work out, you become well fit. The outcome is an improvement of your performance and agility.

Other benefits of weight training are lost of fast, increase of metabolism, athleticism and strength improvement.

Strength training increases your endurance during the game. You are able to play effectively during the 90 minutes and extra time. You have the vitality to keep up during the game.

Building momentum requires strength. You're able to attack or get to the ball first than your opponent. Strength training allows you to do so.

It helps you to use your body strength, stamina, endurance, and fitness. You overall ball possession during a game is high than your opponent. You have high power breathing and fast recovery after an action.

Remember that soccer strength training is not about bulking up muscles. It is about a well rounded soccer body type which produces strength, endurance, and vitality during a soccer game.

Goalkeeper and other soccer positions training provides the focus you need to well play in your position. The benefits are:  alertness, concentration, space control, quickness in receiving or attacking the ball, etc.

As you can see, to become a great soccer player, you are required to go through these trainings. A mixture of these specific soccer trainings will give you great rewards in the field.

I can't stretch it enough that, young soccer players need speed, velocity, strength, stamina, endurance, weight balanced, focus position trainings. The more you work on them, the brighter you will shine in the pitch.

Good things will start pouring your way. So use different soccer training types during your practice. You are on your way of becoming a great soccer player.

"Go back to top of this Soccer Training Types for Young Players information here"
You are invited to visit the home page of Youth Soccer