Re-Living my Soccer Passion
My passion has always been soccer. I played soccer almost all my life. Until present I'm still passionate about it. I relive that passion today through my Youth Soccer site.

My name is Valentin Bikibili. I'm your guide and host in this site. I was born in Cameroon, Central Africa. That is where began this obsessive love of soccer since my childhood.

My childhood Soccer Story

Growing up as a child, life was so tough. My parents worked all day long in the farm to feed the family. The only thing which made me happier was playing soccer. It was like a drug to me.

I couldn't spend a day without playing.  I remember everything like yesterday. I had no soccer jersey. I used to play with my daily clothes. I had no cleat. Bare feet were my best shoes. I had no field of play. The village's road was our stadium.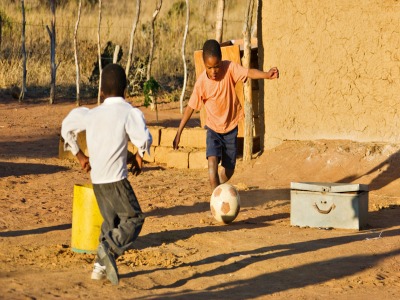 There was no goalpost. We used two stones at the end of each side of the road. Just to make things work. I had no soccer ball. A green lime was our ball. Let's stop here.

What a joy I had to run, kick, and score a goal with our lime ball. Sometimes I will get in real trouble with mom.  She always gave us some chores. I will spend the day just playing soccer.  I forgot to take care of mom's chores.

My Youth Soccer Background

As I grew up, soccer became increasingly a big part of my life. I played bare feet in elementary school. In High School I was dreaming to become a professional soccer player in Europe. First I had to develop my own skills.

I spent countless of hours developing my skills and talents. You can find some of the drills I trained with  and tricks I  used in this site.  I have learned most of my soccer skills alone.

I played as a midfielder in High School soccer team.  I also played in the Regional Inter-School soccer league. We fought hard against other High Schools and Colleges.  I was one the best players of our team. 

I played as a midfielder of the Prison Guard soccer team. This was the best soccer team of the Sub-division. I was the only young player in the team. It helped me building self-confidence.

The best opportunity came when I was offered to play in the national second division. This was a semi professional level. It was a huge breakthrough at that time.

My Soccer Initiatives
I kept my soccer passion alive with good actions. I created a Regional Summer Youth Soccer League. The goal was to inspire youths to love and play soccer.

During its first edition, I created a soccer team named Boca Juniors. It was Maradona soccer team at that moment.

I was appointed captain of Boca Juniors by other players. I spent the next eight (8) years in that position. I ended up as a soccer coach and captain at the same time.
The League lasted more than ten (10) years. Some young players went to play in first and second divisions of the National Soccer League. Others went to school and became soccer coaches, referee, and physical education trainers.

I had a great time and experience as semi-professional soccer player.

Change of My Soccer Goal
I was looking to move to Europe and become a professional player. Things happen in life. I had to quit my soccer goal to find a job and help our family.

I quit my dream, but not my passion. I continued playing with different soccer teams. I trained young players of my region and parishes. It was a fun experience.

I moved to US for other reasons. I played regularly with our Sunday team. I attended various soccer tournaments.I registered my three boys with StarFinder Foundation. Sometimes I will take them to the field and train them myself.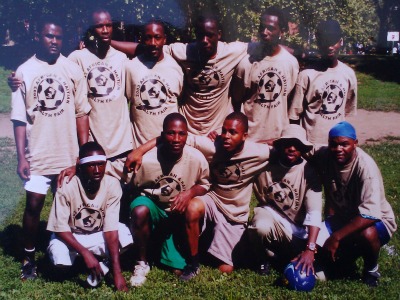 I currently play soccer with a group of youth and my Sunday Team where I share my experience.

Working with my own kids, I asked myself how I can share my soccer player experience with young players. I had no precise answer until I stumbled on the story of Elad.

The Beginning of This Site
I came back the next day and read the full story of Elad and his sister. I decided to build a site about Youth Soccer. My goal is to share my soccer player experience with young players and help them to get discovered by professional soccer teams.

The experience of building this site has been very exciting. I never thought I will stumble in something like this.

SBI! (Site Built It) can allow you to take your idea, hobby, passion, etc and transform it into a successful business. That is the case with my soccer site.  Read these case-stories  of people like you and me and your doubt will vanish immediately.

I also invite you to take a video tour to better understand how I'm building my soccer site with the help of SBI. If you are busy you can still take a quick tour here and get the picture of what I'm talking about.

Do you want to know how I make money with my site? SBI shows me different ways how I can create a passive income through my site. 

I can use Google ad sense, sell an e-Book, advertising, promote affiliate products, create sell audio and video courses, sell goods, organize webinar, etc. Ways of making money with my SBI site are limitless.

That is what is happening to me with my youth soccer site. If I can do this, you can do it too. You need no experience. The only thing you need is your passion mixed with a good motivation. You can start today. It is never late to start for a winner.

" Go back to top of About Me"
You are invited to visit the home page of Youth Soccer